Prayer for Ukraine

Praying for Ukraine
Would you like to pray in the church sanctuary?
Perhaps light a candle and be still in God's presence?
Pop into St Mark's church when the parish office is open and we can offer a quiet, reflective space to help you pray.
You are very welcome to join us - praying for the Ukrainian people, for a peaceful resolution, for our own peace and well-being.
Donate
We are collecting donations for the Disasters Emergency Committee. Any money we receive will go straight to them.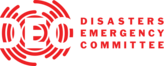 Click on the image to the right to be taken to their website if you want to donate directly.
Written prayer
If it's helpful, here is a prayer written by the Archbishops of Canterbury and York: