St Mark's School and our church
Rev Chris Elms visiting St Mark's school to talk about Christianity with some of the children Click here to go to the school website for full details.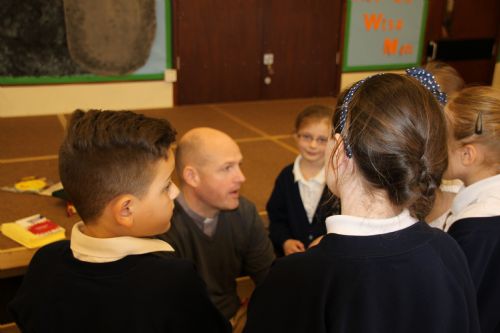 St Mark's School became part of the Bath & Wells Multi Academy Trust in September 2016. The school name is now St Mark's Ecumenical Anglican/Methodist Primary School.
The school mission statement is 'Helping children to achieve their best on their learning journey' and the school vision statement is 'Igniting the fire for learning'. Pupils say they are proud of their school; they learn with confidence; have outstanding behaviour; are considerate towards one another and attain consistently above average results, preparing them well for the next stage of their learning journey.
The Christian Ethos and Values are central to the life of St Mark's School ensuring that everyone feels cared for and valued. The Core Christian Values are: Hope, Honesty, Friendship, Forgiveness and Perseverance.
At St Mark's school the uniqueness of each child is celebrated. The school have high aspirations for them whilst on their learning journey in laying firm foundations for their future lives. As summed up by one of the pupils recently, "St Mark's is a family of friends".
At St Mark's Church, one of our top two priorities at the moment is to develop our relationship with St Mark's VA Primary School.